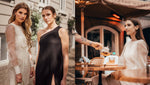 Saudade
/saʊˈdɑːdə/
Especially with reference to songs or poetry) a feeling of longing, melancholy, or nostalgia that is supposedly characteristic of the Portuguese temperament.
This collection takes you back to how old days and habits once were. It was inspired by an old photo featuring a pale blue volkswagen parked by a Portuguese beach in the 70's. The colors were so familiar and perfect for the launching of DLANDERSEN. 
The Saudade collection is a locally sourced and in-house made collection. The materials are hand picked featuring only the best of them. Organic fibers, merino wools and silks are a constant and it is an re-interpretation for how the old days long lasting quality was to us. 
Non-pretentious but down to earth Saudade takes us to a place where we haven't been before. The lined dresses have either a silk lining or an organic breathable cotton layer allowing our bodies to feel hugged and just be. 

See more here